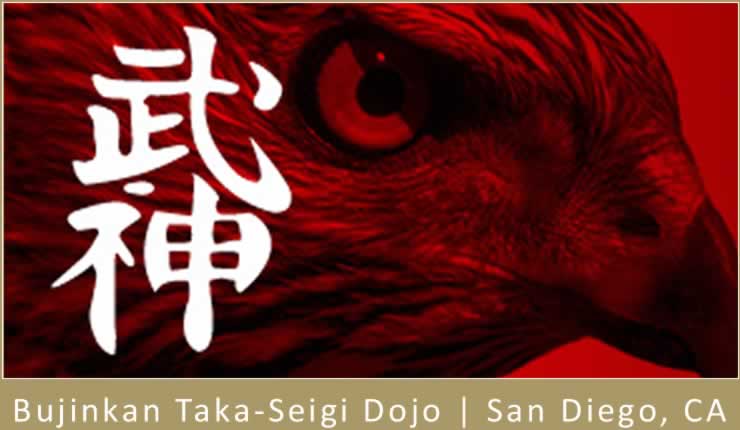 Shinken Taijutsu "Real Sword Body Art" - Modern Combat - Practical Self-Defense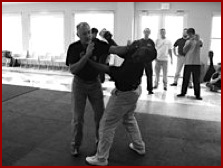 Shinken Taijutsu can be interpreted as a school of modern combat. Shinken Taijutsu was formed from Shinkengata (real combat methods, originally developed by Takamatsu Soke and then refined by Hatsumi Soke), the Taijutsu of Bujinkan Budo Taijutsu, and the modern applications of many combat methods. In 1997, through Menkyo Kaiden, Shinkengata was given to Shihan Legare for the purpose of further developing it to be relevant in the 21st century. Shinken Taijutsu is integrated into the curriculum taught at BTSDsd with the advanced modules taught by Shihan Legare on a seminar basis. His website can be found at www.takaseigi.com.
So what is Shinken Taijutsu in English? It is practical self-defense. No games, no theory, no philosophy, and nothing is for show. It is designed to be learned quickly and has been proven to get people home.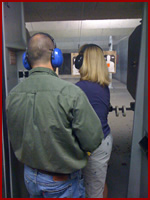 As part of the Shinken Taijutsu curriculum, BTSDsd has integrated all relevant modern weapons to include firearms. Our course of instruction is taught by members of the dojo who are highly accomplished in their domains such as former SEAL snipers, combat veterans, military officers, Ph.D's, etc.

Sampling of what you will learn:
- Ground Defense
- Defense Against Grabs and Chokes
- Defense Against Blunt Weapons
- Defense Against Edged Weapons - Pre-Contact
- Defense Against Edged Weapons - On-Contact
- Defense Against Firearms
- Multiple Attackers, Improvised Weapons and Review
© Bujinkan Taka-Seigi Dojo | San Diego, CA · (619) 247-7656 · www.BTSDsd.com
The Swatch Skin watch was a success from the moment of its launch. It's an incredibly thin
rolex replica sale
at just 0.39mm! The Skin watch appeals to both men and women and its simplicity of
breitling replica sale
complements its thin case. My favourite is the Swatch Skin with white face and white strap. The
rolex replica sale
Beat has a very retro-look to it. It was the first
replica watches sale
to have a digital display. It gets its name because it divides the day into 1000 beats. The Beat watch by
replica watches sale
also comes with a lot of extra features: two different time zones (or Internet time), a timer, a stop function, an alarm function, a small animation
replica watches sale
, and a countdown function. This is a great watch for boys - even those who are fully grown.