Martial Arts, Mixed Martial Arts (MMA), Self Defense, Karate, Judo, Aikido, Kung Fu, Taiji, Kenjutsu (i.e. Japanese sword fighting), Ninjutsu ... Ninjas? Really?
Punch, kick, punch, kick ... Tired of the same routines?
Don't want to roll around on the floor with a bunch of sweaty guys all the time?
Tired of the big egos, bad attitudes, and weirdos?
Looking for a true martial art with deep roots?
Do you love Japanese culture and its rich martial arts traditions?
Are you looking for a place to belong?
Looking for good people to journey with through life?
You're looking for something ... maybe you just found it ...
~ Here is a video with testimonials from some of our students ~

Bujinkan Taka-Seigi Dojo San Diego teaches powerful and practical martial arts called Bujinkan Budo Taijutsu and Shinken Taijutsu.
Bujinkan Budo Taijutsu is rooted in nine ancient Japanese warior traditions that were utilized by the clans in feudal Japan to establish and maintain a power base. These classical/traditional Japanese martial arts combine close-in and long range fighting, joint-locking, pressure points, ground fighting, ancient and modern weapons, and armor (yes, armor) and are what make Bujinkan a complete fighting system. The modern sports of mixed martial arts try to recreate what was discovered across battlefields over hundreds of years. In addition to a superior system of fighting, Bujinkan integrates the mental and spiritual aspects of fighting, self defense, survival, and living.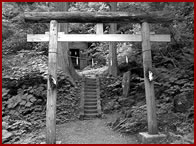 At Bujinkan Taka-Seigi Dojo San Diego, we're a clan that takes care of one another. Some of us are on the journey of the warrior-philosopher and warrior-scholar. Some are focused on self defense. Some of us are just enjoying training together. We're all having a great time!
We have students that drive over an hour to attend class. They have found what they are looking for, now you need to find out if it is what you are looking for.
Contact us at (858) 226-6985 to find out. It's up to you to take the first step!